YAGR-6D


Role:
Jet VTOL UCAV
Operators:
Imperial Izumo Military
Production information
Manufacturer:
Nagajima Aerospace Engineering
Unit cost:
15.9 million En
Produced:
1870 - 1875
Number built:
450
The Nagajima YAGR-6D is a dual-engine jet VTOL unmanned aerial combat vehicle (UCAV), developed directly from the YAGR-4b. The airframe, all internal equipment as well as propulsion systems are exactly the same as the YAGR-4b, with the main difference being the complete lack of any pilots in the YAGR-6D itself. An experimental unit, only a limited production run of 450 YAGR-6D drones were created.
Development
Edit
A completely unmanned version of the YAGR-4b, the YAGR-6D is considered to be the next step in combat aircraft development. It is controlled by a team of pilots several miles away, and is also equipped with a basic IFF-based AI that allows it to fly and fight without human assistance. The drone and the operators are able to scan the surroundings with an array of cameras mounted in various angles on the two pilot canopies, which have been refitting with armour plating to protect the computer systems within.
Deployment history
Edit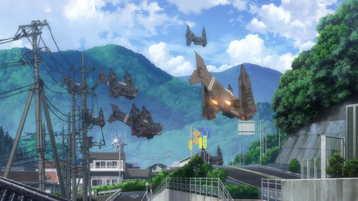 Operators
Edit
Specifications
Edit